Obituary for Rose Jaschek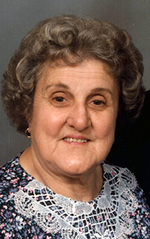 Rose Marie (Kurtz) Jaschek died peacefully in her sleep March 12, 2017, in Valley Park, Missouri, at age 90.

Her memory is cherished by Walter, her devoted husband of 63 years; two sons, Walt and Fred; Fred's wife Peggy; Walt's fiancée Randy; grandsons Adam, Patrick (wife Kristin), Danny (wife Katie) and Charlie; granddaughter Amy; brother-in-law Erich (wife Mary) and a large, extended family of nieces, nephews, their spouses and children.

She was preceded in death by her parents, Johann and Theresia (Ringbauer) Kurtz, and nine siblings: Frank, John, Gustave, Carl, Theresa Hermina, William Joseph, Herman Otto, Betty Ann, and Emma Cecilia, Rose Marie's twin sister. She recounted loving memories of them all throughout her life.

Rose Marie was born July 2, 1926, in East St. Louis, where she was raised. In 2011, she wrote: "I grew up in a house built by my Pop, a bricklayer, with 6 brothers, 3 sisters, my parents and me. There were a lot of people in that house, but there was a lot of love in that house."

Rose Marie graduated from East St. Louis High School in 1945, and for 10 years worked as a telephone operator at Southwestern Bell in East St. Louis. In 1954, she married Walter, a Navy veteran and aerospace engineer at McDonnell Douglas, and became a homemaker in Jennings, Missouri. She served in the Jennings High School Mothers Club, performed in the club's "Kitchen Band," and was a member of Faith-Salem United Church of Christ.

A prolific scrapbooker, Rose Marie assembled, over the decades, dozens of albums containing family photos and mementos, annotated with first-hand descriptions in her own handwriting. These albums continue to be treasured by generations.

A talented baker, "Aunt Rose" gained notoriety among family for the quality and quantity of her Christmas cookies, creatively transformed into faces, stars and Santas. At the holidays, no person in her presence was without one. Or many.

In retirement, Rose Marie and Walter traveled with their church group by bus to 48 states, and memories of the beautiful America they saw first-hand animated their conversations for many years.

At Rose Marie's request, there will be no public memorial service. A graveside burial service for immediate family will be held at Jefferson Barracks Cemetery.

The family suggests donations in Rose Marie's name to the Parkinson's Foundation: http://www.pdf.org/fund_memdon

All are also welcome to leave memories, photos and stories, via the links of the left side of this page, under the "memories" tab. Thank you very much.