Obituary for Evelyn Terrall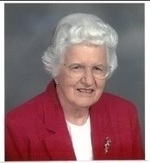 Evelyn passed away peacefully on April 5, 2017, at age 95.

Preceded in death by two loving husbands, William Bruce Hosack and Thomas Almon Terrall, and eldest son William Bruce Hosack, Jr., Evelyn is survived by two loving children James H. Hosack (Sue) and Susan E. Hosack, grandchildren Nicholas H. Hosack (Patricia) and Benjamin J. Hosack (Nicole), great grandchildren Alyssa Skye Hosack and Cedar James Hosack, and many members of an extended family.

Evelyn was an elementary school teacher for many years at Des Peres School and dearly loved her little first-graders. In retirement, she enjoyed numerous Elderhostel trips and genealogical research into her ancestry as a Mayflower descendent.

She was a devoted and active member of Kirkwood United Methodist Church for 57 years, and active in the PEO sisterhood, Delta Delta Delta sorority, and many other organizations.

The family wishes to express their sincerest appreciation to the care managers and staff at Sunrise Senior Living in Des Peres and Seasons Hospice for their loving support of Evelyn as her health declined.

A private memorial service will be held at KUMC. In lieu of flowers, donations may be made to Kirkwood United Methodist Church or the charity of your choice.