Obituary for Glennon Woods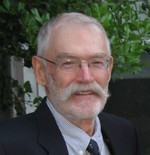 Woods, Glennon John, 79, born in St. Louis and latterly of Glendale, Missouri, died at home in his sleep Sunday, April 9, 2017, nine months after the death of his wife Barbara. Glenn was kind, stubborn, funny, easy-going, articulate, stubborn (so much we had to say it twice), and a wonderful dad and grandfather. His careers spanned from medical equipment sales to ice cream parlor owner—where he was known as "Mr. Woodsy"—to operator of his own small heating and cooling business. He started his work life as a delivery boy for Mr. Schnucks at age 10. Or 8 or 6, depending on his mood when he told the story. After grade school at Holy Ghost he attended CBC, where he had a good bit of fun and got an education despite himself. His fun streak continued through his first two years at St. Louis University, prompting a hiatus during which he joined the army, hoping to see the world. He made it as far as Fort Leonard Wood. There he spent the next two years as a clerk, pefecting his two-finger typing skills. The military wasn't his ticket to foreign destinations but it did straighten him out, and after his discharge he finished his degree at St. Louis University. He and Barb married in 1964 and had two daughters, Stephanie and Amy. Except for five years in Chicago, Glenn and his family lived their whole lives in the St. Louis area, surrounded by Glenn's small family and Barb's much bigger, louder one. Barb was by nature a worrier and so good at it that Glenn left it to her; he didn't fret about much. His laid-back personality meant that sometimes he forgot to pick up his daughters on car pool day, but he made up for it by teaching them things like how to do donuts on the empty, ice slicked parking lot outside of Woodsy's. He could be persuasive when needed, like when it came time to talk Barb into hauling their two small daughters to the drive-in for a dusk-to-dawn Planet of the Apes marathon. She balked a few years later, though, when he took the girls to five sci-fi flicks at five different theaters in one day.
Glenn loved to hunt and fish; even more, he loved to hunt and fish with his buddies. Living on Old Jamestown Road meant he had a ready supply of road kill whose pelts he plucked to tie his own flies. A walk to the basement was like descending the stairs in a horror movie. But the sight of drying bits of fur was nothing compared to the stench of the dead skunk he once schlepped home. He swore it made the best flies. He taught his grandsons to fish and to shoot, and how to accessorize a hat with a squirrel tail. Glenn and his friends have been making an annual fishing trip to Lake Taneycomo for over fifty years. That trip was one of his highlights of 2017.
Glenn took loving care of Barbara through the long years of her illness. Through it all, with the help of friends like Jack and Pam Weber, Ginny Knoll, and Debbie Pidgeon, he remained gentle, calm, and patient. He leaves behind a loving group of family and friends: daughter Stephanie, son-in-law Bob Zuehlke, and their children Samantha, Alexandra, and Christoph; daughter Amy, her children Cecilia, John, and Zöe, and their dad John Butler (always and ever a son-in-law); cousin Linda (Bob) Hildebrandt; sisters- and brothers-in-law Sandy and Herbie Karr, Cely Kaup, Philip and Jeannie Wolf, Glen Hatfield; and many nieces and nephews. A celebration of Glenn's life will take place at Mary Queen of Peace on April 18, 2017. Visitation at 9:15 followed by a funeral mass with celebrant Father Bob Gettinger. In lieu of flowers, please consider a donation to Father Bob's outreach program at St. Augustine Church, 1371 Hamilton Avenue, St. Louis, MO 63112.