Obituary for Joan Sauer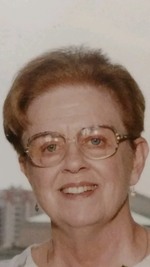 Sauer, Joan E., died peacefully at home on Monday, January 8th surrounded by her loving family. She was born January 4, 1930. Beloved wife of the late Darrel Sauer, Sr. and survived by her children Mary Knight (and husband Bob), Robert Benson, Fran Jones (and husband Ken), Darrel Sauer, Jr (and wife Molly), Michael Sauer, and Ann Morton, and her many precious grandchildren.
Joan was a native St. Louisan and lifelong resident. She was a woman of deep faith and conviction. For most of her life she was a proud homemaker. Although fiercely protective of her children, Joan was a kind and gentle soul. She never met a stranger. She focused on the good and the beautiful things in the world, and on her faith. She participated in her children's and grandchildren's lives and was the happiest amidst the chaos of a large family.
Services: A memorial service will be held on Friday, January 12, 2018 at 10:00 AM at Mt. Calvary Lutheran Church 9321 Litzinger Rd, Brentwood, MO 63144. Flowers are sincerely appreciated by family. Committal will be held at Jefferson Barracks also on Friday January 12, following the funeral at 12:45.