Obituary for Olga Marden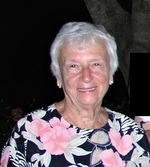 Olga Anne Marden (nee Laho) born June 2, 1927, Bensenville, Illinois, died peacefully January 5, 2018 fortified with the Sacraments of the Holy Mother Church. Beloved wife of the late James Charles Marden; loving mother of Judith (the late James) Jones, Jeffery (Marsha), Anne (Dale) Sandell, Cecilia (Philip) Leslie, Michael (Francoise), Patricia (Howard Smith), Gregory (Anna), James (Margaret), and Mary (Todd) Westphalen; dear grandmother of fourteen and the late Tommy Marden; dear great-grandmother of fourteen.
Olga's family moved to Kirkwood in 1965 where all nine children attended Kirkwood Schools. She became very active in the community in many ways, including volunteering for: Meals on Wheels, the Kirkwood School District, and the Kirkwood Train Station. She was an active member of St. Peter's Catholic Church and enjoyed singing in the Funeral choir. As her children got older, she loved working for Goldes department store on Manchester Road. Later she became an administrative assistant for United Postal Savings & Loan. She made life-long friends through these employers. With husband Jim, she also co-owned The Tyme Shoppe, selling and repairing fine clocks. A great excitement for Olga was spotting a Kirkwood Garage Sale sign!
Visitation Friday January 12th, 4-8:00 pm at Bopp Chapel 10610 Manchester Rd, Kirkwood. Funeral Saturday January 13th, 10:30 am from Bopp Chapel, to St. Peter's Catholic Church for 11:00 am Mass. Interment St. Peter Cemetery.