Obituary for Rocco Fiordelisi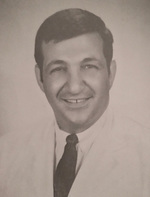 Rocco Joseph Fiordelisi, M.D., F.A.C.S., fortified with the Sacraments of Holy Mother Church on Tuesday, January 9, 2018 at age 84; Beloved husband of 57 years to Marie Grace Fiordelisi (nee Cascio); loving father of Lisa (Todd) Arends, Gina Fiordelisi, Tina (Mike) Donahoe, Rocco J. (Ann) Fiordelisi III, Mia (Brent) Ness and Michael (Angela) Fiordelisi; cherished grandfather of Ali (Jayme) Szafranski, Chris Arends, Michael Donahoe, Matthew Donahoe, Anna Fiordelisi, Natalie Fiordelisi, Rocco J. Fiordelisi IV, Leo Fiordelisi, Salvatore Fiordelisi, Maria Fiordelisi, Nicholas Ness, Kevin Ness, Peyton Fiordelisi, Mia Grace Fiordelisi and Dominic Fiordelisi; dear brother of Linda (Norm) Glomp and the late Gerald Fiordelisi; dear uncle, cousin and friend to many.

Dad to his kids, Papa to his grandkids, and a skilled and compassionate surgeon to his many patients since he started his private practice in St. Louis in 1975. Born and raised in Rockford, IL., Rocco played on the undefeated 1951 Northern Illinois Football championship team. He and his teammates were elected to the NIU Hall of Fame in 1991. Rocco served in the Army and was stationed in Germany from 1956-1958. In 1960 Rocco and Marie were married in Rockford, where their journey together began, and Lisa, Gina and Tina were born. While running Rocky's Tavern, he decided to pursue his true passion for the healing arts and went back to school in 1963. While earning his master's degree in Science, his fourth child, Rocco, III was born. In 1966, the family of six moved to St. Louis for medical school. The oldest (by far) in his med-school class at St. Louis University, Rocco served as president for four years. During this time, Mia was born and Michael, the sixth and final child came along in 1971.

As a sole practitioner, Rocco was on staff at many hospitals including St. Mary's, St Anthony's, St. Luke's, and St. Joseph's in Kirkwood, where he served as Chief of Surgery for several years.

Retiring in 1999, Rocco continued to serve St. Joseph's as the president of the hospital foundation. During his retirement, he also served as the president of his residential association in Naples, FL for many years.

Memorial Mass at 10:30am on Saturday, January 20, at Ste. Genevieve du Bois Catholic Church, 1575 N. Woodlawn Ave., Warson Woods, MO 63122. In lieu of flowers, memorials may be made to Ste. Genevieve du Bois Catholic School Education Fund.