Obituary for Theodore Vickroy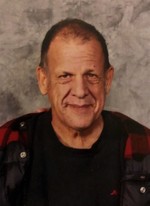 Theodore ("Ted") Sears Vickroy passed away Tuesday, February 6. He worked for Schnuck's Market for the last 27 years and McDonnell Douglas for 15 years prior. Ted was known for his wit, loyalty and ability to make any stranger a friend. Ted came into life with many challenges but was able to achieve the independence he so desired. Ted will be deeply missed. Beloved by his parents, Margaret and William, his brother William Jr. and sister Nancy and his relatives in the Vickroy, Clayton, Nelson, Barrington, Hickman and Heffner families.

Services will be held at St. Peter's Episcopal Church, 110 N. Warson Rd., on Saturday, February 17th at 2 pm. Visitation will be at Bopp Chapel, 10610 Manchester Rd., Kirkwood, on Friday, February 16 from 6 to 8 pm. In lieu of flowers, please send donations to Sunnyhill Inc. or St. Louis ARC.